BLS CPR & AED Classes in Fort Lauderdale
$64.95
American Heart Association AHA BLS CPR and AED Classes
Our Fort Lauderdale CPR classes are administered as an official training center of the American Heart Association. The Basic Life support (BLS) CPR and AED for the Adult, Child, and Infant class is the exact CPR certification that is needed by all of the Health Care providers such as nurses.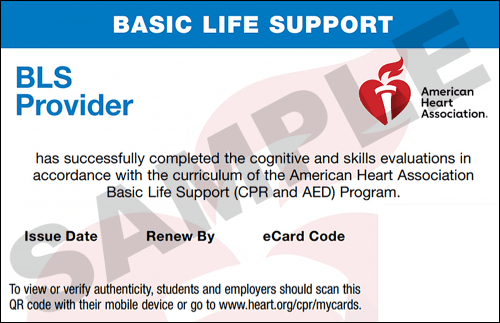 Fort Lauderdale CPR Classes
If you're needing an American Heart Association (AHA) CPR class, CPR Certification Fort Lauderdale is the one for you! Our company has taught thousands of people nationwide with our easy all-in-one-day learning and certification experience.
Our team of trainers will cover everything needed in learning CPR, which includes —
How to give Basic Life Support (BLS) to adults, children, and infants
How to perform the seven steps of CPR
How to use an AED machine
How to confidently use your skills and knowledge
Our mission is to provide the best American Heart Association CPR classes at an affordable cost so everyone can leave having had the best learning experience.
Our CPR Training Includes
Same Day CPR + First Aid Cards
Hands on Chest Compression Training
Rescue Breath Training
AED Usage for Infant, Child, and Adults
Friendly and Relaxed Environment
Professional Instructors
CPR Certification Fort Lauderdale Locations
Fort Lauderdale's Best CPR Classes
Know CPR. Make a difference. Save a life.
Thousands of people suffer every year from accidents, strokes, and heart events. If more people knew how to perform CPR those lives could be saved. Our team of trainers is here to make you feel confident in using your BLS, CPR, and AED skills and knowledge in an emergency.
What is CPR?
CPR (Cardiopulmonary Resuscitation) is the combination of rescue breaths and chest/finger compressions to help revive an individual who is suffering from cardiac arrest. CPR keeps blood pumping through the body until the person is revived or medical help arrives on scene.
What to Expect in Your CPR BLS Classes
In our CPR BLS classes you will learn the ABCs of CPR and the differences when assisting a child or infant versus an adult. You will also learn the seven steps of CPR which include how to find a heartbeat, how to perform chest compressions, and how to restore unassisted breathing. By choosing CPR Certification Fort Lauderdale you are choosing to attend the finest American Heart Association CPR classes. In addition, you will be fulfilling OSHA requirements and be certified to perform CPR.
All employers and organizations accept our training, including —
Nurses, RNs, and CNAs
Hospitals EMT/Paramedic Companies
Home Health Aides
Personal Training Facilities and Gyms
Schools (Private and Public)
Hospitality Industry
Construction Sites
Daycare and Other Caretakers
Nursery Caregivers and Workers
Nursing Schools and All Other College Programs
Nonprofits like the Boy and Girl Scouts of America
Firefighting and Other Municipalities
Why Train With Us?
We have heard many good things from past students. Here are some of the reasons they recommend training with us —
Our CPR classes provide you with the best and most accredited certification in the United States.
We love supporting our community! With our flexibility, you can come to our training facility, or we can come to your mid-to-large-sized group.
Our hands-on, in-person, streamlined class times and smaller group sizes are a way for you to feel like your training is more one-on-one.
You can leave your class with your CPR certification card the same day to train and test!
FAQS
How do I complete the course?
Once you finish your registration for the class day and time of your choice, all you need to do is show up to the AHA CPR classes! We do not require any class prep beforehand. Your class will include all the necessary educational modules that ensure your card is AHA BLS CPR and AED Healthcare Provider certified.
Our CPR trainers bring all the information together for you by facilitating your training, skills check, and testing while answering your questions. Be wary of other online options that do not have in-person training but seem less expensive. You need in-person training to be fully certified in CPR.
With our CPR renewal class, you can regain the best CPR certification that helps save lives.
When can I take my certification course?
We have weekly opportunities! Simply sign up for the one that best suits your needs.
When will my certification expire?
It is required by OSHA and the AHA that you renew your certification every two years. This keeps your knowledge and skills up-to-date.
How long do the CPR classes last?
Class times are approximately 3 hrs.